You like tricks, Chris? It's a quarter in your ear, bitch
I have some hot topics for you people today. They are more like news topics, though, not stores where goths buy beads, so you might want to keep reading.
No, really. Go ahead and keep reading.
First of all, my brother Josh (also known as Jdude on the comments section) has decided to restart his old webcomic, Orcish Spam. It was a Dungeons and Dragons-related comic, but it was really funny, and you didn't necessarily have to play Dungeons and Dragons to think so, either. How many Dungeons and Dragons comics can you seriously say that about? None, that's how many. I'll tell you more about it later when Keenspace decides to get off its ass and answer his request for a site, so keep on truckin'. Whatever that means.
Also, Josh and I are working together on an epic unnamed comic about robots. Josh is drawing it, and I'm writing it. We've got about 5-6 comics drawn up, but we still haven't decided on a name. The working title is "The Dravo Project," but that's probably not what we're going to call it. I don't know. We might. Whatever. Here's a sneak preview of the first comic, so you don't all think I'm just making shit up. This is copyrighted by Josh and me, so don't steal it and try to sell it to Dark Horse or anything, or we will TOTALLY sue you.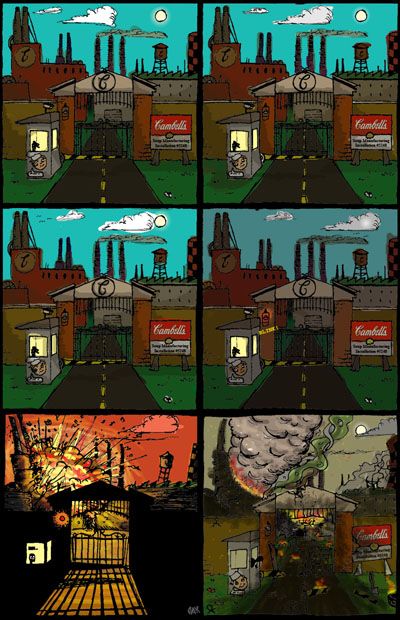 Click the picture for a larger version
Let's see, what else... oh yeah. I registered the domain name for http://www.biscuitsforbreakfast.com the other day, so just type that in and it will take you to my comic site. Take THAT, established painter G. Harvey.